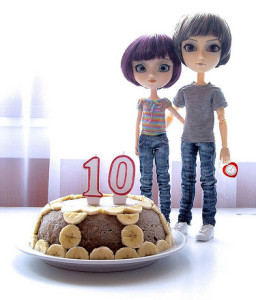 Yesterday, my wife and I celebrated our 10th wedding anniversary together. We had a nice quiet night out with a movie and then dinner. We would have done dinner and a movie, but we get very sleepy after eating. Either way, we had a great time.
After 10 years of marriage, you may think that I've learned a thing or two about woman — but no, not really. I think I'd probably die and still not understand women.
I have learned a thing or two about marriage, though, and for our 10th anniversary, I will give you 10 things that you may have thought about marriage that just aren't true.
1. All you need is love
Kevin Lomax: "What about love?"

John Milton: "Overrated! Biochemically no different than eating large quantities of chocolate."

~ The Devil's Advocate
Yes, love is required to make a marriage work, but it's never enough. You would think that as long as you love each other, that the marriage would last, but that's not true. Many things go into making a marriage, of which love is just a part. Work is what makes a marriage endure.
2. Marriages are meant to be
"They say marriages are made in heaven. But so is thunder and lightning"

~ Clint Eastwood
Many people think that a marriage is something that is meant to be; and what is to be will be. But it is foolish to think that a marriage is destiny. Marriage is a ship that needs to be steered, or else it may end up on rocky shores.
3. A good marriage is one that will come easy
"It's not easy having a good marriage – but I don't want easy. Easy doesn't make you grow. Easy doesn't make you think."

~ Madonna
It's hard to work in a team, why would you think it would be easy to work in the marriage. Here are two people, with two different backgrounds, with different upbringings, and you expect things to be easy? Not so! There are going to be lots of hard times, but it becomes easier as you work through them together.
4. Marriage is about compromise
"Don't compromise yourself. You're all you've got."

~ Janice Joplin
Compromises mean that you give up something, but marriage is not about giving up anything. Marriage is about choices. You choose something over something else; you don't give up anything to have anything. By making a choice, you will have a life of less regrets.
5. You will live happily ever after
"More marriages might survive if the partners realized that sometimes the better comes after the worse."

~ Doug Larson
When my wife and I were first married, the first 4 to 5 years were extremely turbulent. But after that, it became significantly better. Many people go into marriage thinking that they would be happy forever, then reality sets in like a ton of bricks when you realize it's not true. Set your expectations correctly; the marriage does not bring you happiness; you bring happiness into the marriage.
6. For a happy marriage you need to be compatible
"What counts in making a happy marriage is not so much how compatible you are, but how you deal with incompatibility."

~ Leo Tolstoy
The truth is that compatibility is only one part of the story. You'd find early in the marriage that it's the differences that drive you crazy. And it doesn't have to even be the large differences. It could be the way that she squeezes the toothpaste from the tube, or that he doesn't use a coaster when he places his drink on the table. You will have to learn early on how to accept and even appreciate each other's differences.
7. You need to have lots in common
"I got gaps. You got gaps. We fill each other's gaps."

~ Rocky Balboa
It is not necessary to have lots in common, only that you have similar values. My wife and I have very little in common. I'm very active, she's not. I like technical things, she prefers creative things. Perhaps having lots in common might make things interesting, but it's not necessary for a happy marriage.
8. You must know your partner really well to have a happy marriage
"A successful marriage requires falling in love many times, always with the same person."

~ Mignon McLaughlin
I proposed to my wife within three months of meeting her. I know of people who have known each other for 10 years, and get divorced within two years of getting married. Knowing someone and being married to someone at two totally different things.
9. Marriage is all about lots of great times and good memories
"Marriage is not just spiritual communion; it is also remembering to take out the trash."

~ Joyce Brothers
Marriage is about dinners, and anniversaries, and children. But it's also about cleaning up, washing dishes, cooking and making the bed. Marriage is the sum of all moments, even the most tedious ones.
10. You can have a happy marriage if you plan it well
"Marriage has no guarantees. If that's what you're looking for, go live with a car battery."

~ Erma Bombeck
People go into a marriage with a plan, or expectation; a vision of what the perfect marriage will be like. But life does not cater to your plans. Unexpected things happen. You don't get that promotion. A child comes too early. The stock market crashes. Your marriage suffers because of this, but it doesn't have to be like that. Base your expectations on what you are going to give and not what you are going to get; that's the only thing you have control over.