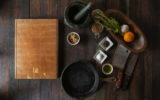 I like cooking. I'm not particularly good at it, or very fast, but I like to do it anyway.
There's something about taking a set of ingredients that all have a certain taste and putting them together to get something totally different. That act of creation seems almost magical.
It has helped me in so many ways to better myself.
Patience
Cooking takes time, especially for me. I take particularly long to cook, mainly because of my lack of experience so I'm very measured with my techniques. I don't rush, and it helps me to be patient with myself and the elements that I'm working with.
Planning
If I'm cooking something I spend time researching and figuring out the ingredients and recipe for making that item. I don't follow a single recipe, but instead, look at different ones, and using some basic understanding of how the cooking process works, develop my own. And I'm always checking and rechecking what I'm doing.
It means that I use measurements for everything, that way if something comes out well, I can follow this again in the future.
But even then, I change things next time because I like…
Experimentation
I tend to cook different things, rather than cooking the same thing over and over. And even if I'm cooking something I've done before, I try to see if I can make it better by trying a different technique or changing the ingredients.
I don't particularly know if this will make me a better cook, but I like new experiences.
Enjoying the work
There's a meme that says two hours to cook a meal that you'll finish in 15 minutes and then you have all the dishes to wash.
When I'm cooking I'm not considering the work, but enjoying the practice. I'm not thinking about my problems and what I'm going to do about them, but I'm focusing on the task at hand.
It's sometimes a welcomed release.
Delayed gratification
I tried baking cassava pone instead of buying it like I'm accustomed to. This takes a lot of time and effort to grate the ingredients, mix them, and bake them. In all, it took around 4 hours. And, it didn't come out all that great, but I enjoyed the taste of my own labour at the end, and it tasted great.
In a world where everyone wants something instantly, cooking something from scratch is a change. Every time I cook, I've learned to wait to enjoy something I really like.
Facing failure
While making my pone, I got really excited about preparing the ingredients. It was coming along so well and I could barely contain myself.
Then while it was baking, the edges cooked nicely while the centre started to look really dry, which was not expected. I started to get anxious and disappointed that it wasn't shaping out as well as I hoped. And while I hoped that somehow it would even out, it didn't.
I was sad, but I resolved to try again as I still had ingredients left to make another batch. I didn't let this failure get me down. However, it turned out that it tasted really good after all, so I was worked up for no reason.
Learning about myself
Cooking has allowed me to learn a little about myself. On how I approach things. About my creativity. My willingness to try something new, even if it means failing, but also seeing the successes.
It has allowed me to test myself and is a pretty good analogy for the rest of my life where I don't often feel confident in many areas. If only I can face all those challenges the same way I approach a new recipe – with excitement and a sense of wonder.