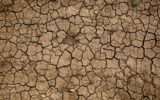 It's the year 2050.
You put on your mask to go outside. Not because of COVID, but because the air is so polluted you can't breathe properly, and respiratory illnesses are rampant. At midday, you can't go outside because it's so hot. There are wars all over because of water scarcity and people trying to leave areas that are now unhabitable. Around 30% of the types of plants and animals we know today is virtually extinct. Many of the Caribbean islands are inundated with cyclical flooding, storms, and droughts.
This is what climate change looks like. This is but one possible future if we continue along our current path. And we can change it, but it will take collective action.
When you were younger, do you remember seeing many butterflies and bees around? I don't see much anymore. The destruction of our natural environment has driven them away. They're not entirely gone, but many of these insects are likely to die off within this century. It means our grandchildren are not going to know their beauty.
And it's my kids I'm scared about the most. I worry about the world that I'm leaving behind for them. Or the suffering that they may have to endure.
This is not what I intended when my wife and I decided to have a family.
Last week a co-worker said that it's really hot outside; I may be right about this whole climate change thing. And I lost it. There are hot days, and there are cold days. The weather is not the climate. The climate is the longer-term patterns that exist, and we've altered it.
But it shows that the issue of climate change is hard to picture. The world is so large, and there are so many things going on that it's hard to see the changes on a day-to-day scale. Even when presented with data that shows the effects of our activities on temperature rises, we relate it to our everyday experiences and think, "but it doesn't seem different."
And while there is mostly consensus on the climate science, there are still people out there who debate it. And because the "costs" for combating climate change is high, both in the amount to spend and the revenue gains to forego, people tend to latch on to those debates as reasons to continue as is. But that will lead us down the wrong path.
Now we've been told it's about our individual habits that are causing this. This is problematic because it seems right while also feeling wrong. I recycle, even though as much as 90% of plastic waste doesn't get recycled. And, as much as I care about my so-called "carbon footprint", I drive to work daily. I would love to bicycle to work every day if I felt safe doing so.
Our built environment has not made it easy for us to make better environmental choices. And that's not something that I, as an individual, can change.
It will be up to governments and leaders to create policies and set up systems that put us on a path to environmental sustainability. We need to force our leaders to start making the decisions for sustainability. To force corporations to create products that are environmentally sustainable and to reduce consumption. To cut back their insane chase for growth and re-election to give future generations a fighting chance.
But we as individuals also need to cut back. It would mean that we are not upgrading our phones, cars or clothes every year or so,
And I know it's hard; FOMO is a real thing, and corporations use that to entice us to consume the items they produce. But we must fight back. And fight back hard.
We, too, need to make decisions for the future, a future that we will never see. But there's a saying – A society grows great when old men plant trees under whose shade they know they'll never sit.
There's a comic by Joel Pett with the punchline – "What if it's a big hoax and we create a better world for nothing?"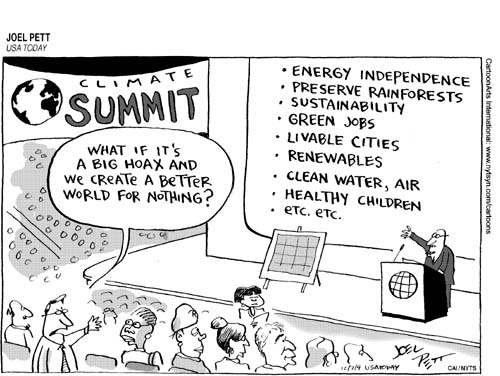 Don't we want a better world? Ask yourself, "what will the world look like in your grandchildren's and great-grandchildren's day?"
Now, I want you to imagine this.
It's the year 2050.
You go outside, and it's a nice, cool day. The air is crisp and has a pleasant earthy smell to it. Birds are singing while butterflies and bees buzz around flowers that grow on the rooftops and along the walkways and cycleways in the city. It's quiet as there are no cars around – bicycles and safe mass transit systems that run on green renewable energy are the main modes of transport. People are healthier and happier as we've learned to mix technology with our natural environment. You walk past families as children play under the shade of trees planted thirty years ago.
This is another future available to us if we take collective action now to make it happen.
Let's go plant some trees.