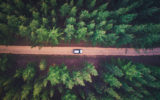 After a series of unfortunate decisions, I found myself unemployed
Uncertainty is scary. Like driving in rainy weather, in the dark, and your lights are not working that well. But even when things look bleak, you can make it through.
Back in 2007, I was speaking to a good friend of mine. He wanted to start a business, and we talked about working together. But I wasn't ready for something like that at that time, so he went ahead without me.
Three years later, in October of 2010, I thought I was ready and decided to join my friend to work with him in the business. The thing is, while I expected this to be a partnership with him, he had totally different expectations. I ended up being an employee at significantly reduced pay.
So, I left. And now I had no job.
That was in December. I took the time to enjoy Christmas and refresh my resume for a job search in the new year.
In January, an old client called me and asked me to do a job for them. I gave them a price, they agreed, and that's how I started my consultancy business.
That first year was the most I ever made in my life up till then. I was in my glee.
But it was downhill after that. I could never replicate the first year's success, and subsequent feast and famine cycles started to take a toll on me.
Am I really cut out for this? Should I go back to a steady job?
Those were the questions in my head.
Knowing that I had a family to take care of didn't help me feel better about things.
I felt scared. I felt angry. I felt hopeless. I felt useless.
That went on for years.
Then one day, I was doing some work for a company when the manager who hired me got promoted. I asked if I could apply for his position, and he said to send in my resume. I got the interviews. And I got the job.
At first, I felt ashamed that I didn't make it in my business. But I focused on getting the job done. Learning from it. And saving as much money as I could.
It's been almost 5 years, and I think I'm ready to make another move. But again, uncertainty is scary. Really scary.
I'm sure many of you feel the same way. I've been certain, to uncertain, to certain, to uncertain, to certain and back to uncertain again. The cycle never stops.
But that's the point.
You may be in a situation that you're uncertain about now. But this too shall pass. Take time to learn and prepare yourself for the next step. And something will come along to give you certainty once again.
I've always thought that T&T must have the best drivers. Do you know why? Because you're constantly dodging potholes, bad drivers, and dead animals. Smooth roads don't make skilled drivers.
The road of life is not smooth. It's potholed, winding and filled with bad drivers. But adversity and uncertainty have made you skilled.
Just keep driving, and you will make it out to more extraordinary things.