In T&T, it's been a month since the last new case of COVID-19, and as of now, there are no known active cases anywhere.
So why are we still in lockdown? And was that the intention? To eliminate cases of the virus that exist?
I thought at the beginning, the purpose of taking an aggressive approach was to flatten the curve. To me, this meant reducing the growth of infections so that it didn't overwhelm the capacity of the healthcare system.
Do you all remember that GIF that was going all around: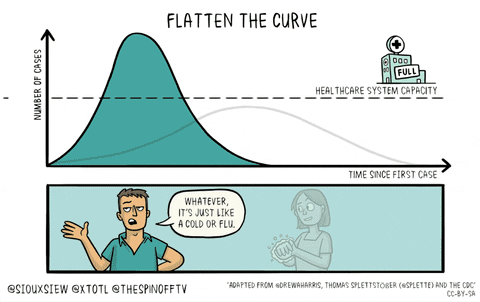 Instead, we've eliminated the virus from the country.
So here we are, a small island state, with borders closed along with restaurants, bars, cinemas, beaches and rivers, retailers and schools, with no sort of herd immunity. When will it be safe to open back up?
Are we waiting for a vaccine? Are we going to remain closed off for the next 1 to 2 years while one is developed? What if one never comes? Do we expect to keep everything closed forever?
With low energy prices and our hope to build other industries a distant dream right now, the economy doesn't look too good. We've mainly taken a whole lot of pain for none of the gains.
The SARS-Cov2 virus is here to stay, and while the Government has given themselves a collective pat on their backs, in reality, we have merely delayed the inevitable.