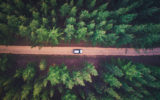 Can you imagine working at a job paying $25,000 a month? That's a pretty nice figure. Now imagine making $25,000 a day.
Here's the thing though; you can earn $25,000 a day for a hundred years, and still not become a billionaire.
No one becomes rich by working for someone and earning a paycheque.
The way to wealth is by generating more income. Saving alone would not help you to become a billionaire.
Now I would also argue that no one needs to be a billionaire. However, many people would disagree with that.
My mom right now has little savings. I was quarrelling with her that she should have more money saved up for her retirement. She asked me for what she was saving up? She used her money and lived her life. Had she not travelled anywhere or spent it on others, she would have more money saved.
I understand what she's talking about.
I don't want to be so much a billionaire than to have a life of freedom. I definitely want a life free from a job, and most of all, someone holding a position over me. I don't want to be afraid of ever losing a job. Now if becoming a billionaire will give me that, then that is what I'm going for. But it also means that I can't be working in a job.
Time to make those moves.