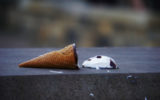 I try as best as I could to be better than I was yesterday, whether it's in fitness, productivity, or relationships. But there are times when it seems that I take one or two hundred steps back in my progress.
Take this week gone by. I talked before about Habitica and how I've been using it to help keep up with both my habits and tasks to get done. I slipped on many of the items on my list, losing many of the gains that I made over a couple of months – in the game and reality.
My first thought was, "well, that's that then." I felt like it was the end. I felt like I was a failure at this thing. It didn't help that there are a ton of things going on at work that's got me all wound up.
It took me a day or two to get over it and look at ways to recover, which is in itself progress as I would often not recover at all.
I talk about failure and mistakes a lot because I believe we learn from them. But I've also come to realise how badly I take them myself at times. I can't help to feel what I feel, but certainly, I can improve how I react to them.
So I guess I've set myself yet another goal – improve the way I react to the failure of not meeting my goal.