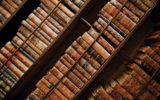 "Until I feared I would lose it, I never loved to read. One does not love breathing."
— From "To Kill a Mockingbird."
I've always been a reader. I've made it a habit to read a little every day. I consider it one of my keystone habits.
My preference is non-fiction books; I always like to keep myself grounded in reality, and want to understand life. I don't often read fiction books and going into a world of imagination. Not that I don't from time to time, but mostly science fiction or historical fiction.
Books for me was never a method of escape, but for a way of understanding the world. I love being surrounded by books and would often lose myself in bookstores and libraries. Infinite knowledge lies between pages, and if only I had unlimited time, I would consume them all. But I don't, so I have to make hard choices of what to read, and regret the ones I have to leave behind.
And while my kids are readers too, they prefer to read fiction, even though I have bookshelves filled with books that I would have read when I was younger. Perhaps some of the content may be dated, but most of the information is still correct.
I feel as if I've done something wrong where they haven't the same level of curiosity and wonder that I had at that age, and still do. My wife says to give it time as they are still young. But I know what curiosity looks like, and I do not see it. Until then, I will encourage them to read.
I also understand that not all successful people read. I know a few smart people, and others in leadership positions, who don't read at all or may have read like one or two books after they left school. They would read articles and blogs, but not books. And they do well enough.
But the majority of smart leader does read. They read to keep updated and learn new things. And you can often tell the difference between leaders who read and those who don't.
But no judgement.
In the meantime, I will continue to read. I will continue to learn because reading is like life itself.