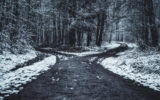 Many years ago I met the owner of a small business. He was telling me how when he was now starting up, there were times he was not sure how he was going to afford to buy groceries.
At that time, his business was doing okay and he wasn't worried about how he was going to be eating that evening.
A few years later I see him again… driving a brand new Audi Q7. Well, certain should have been eating large then.
I always think about this. It was one of the things that kept me going while I was running my own business. It gave me hope.
Unfortunately, I never reached the stage of driving that Audi. Of course, I never did reach the stage of not knowing if I could afford groceries either.
Sometimes I do wonder if I stuck with it where would I be now. Would I have eventually overcome and become amazingly successful? Or would I have just dug myself deeper into a place where I really couldn't afford groceries?
And sometimes I wonder what would have happened had I not left my well paying job to start my business. I would have had a lot more money saved, that's for sure.
You never know what could have been, but you know where you are now. I can't change the past, but I can influence the future.
Stay present.
We Cannot Go Back and Start Over, But We Can Begin Now, and Make a New Ending.

~ James R. Sherman
I don't know what has happened since to the businessman, but I know he's still around. I am too.