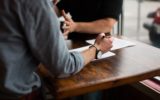 The cost of doing business is all expenses incurred by a business while producing or selling goods or services.
But this is not about that.
I had lunch with a good friend of mine today and he was telling me that he was thinking about doing like me and going back to corporate life.
I didn't try to talk him out of it, nor encourage him. But I understand the challenging choice that he wants to make.
When on your own, there are costs that are often not factored.
Costs on your time as you put in long hours trying to win and keep business in addition to doing the work.

Costs in your relationships as your social and family life are affected by the working of long hours.

Costs of your mental fortitude as you deal with customers for issues, payments, service calls, etc.

Costs on your finances as you often live on little in the earlies and struggle to make ends meet.
People often see the glamourous outcomes after many years of hard work, but don't know all the difficulties encountered when starting and running a solo or small business.
And I also understand my friend's hesitation in going back to work as well.
I have written before about how I felt and the challenges that I have faced as I went back into the corporate world. And to be honest, even a year and a half later, it still feels the same way.
I know it's all in my mindset. But I've not been able to reset that. So it's either that I'm incapable of adjusting my thoughts, or that I need to make a drastic change.
Perhaps my friend may do better than I have. Or perhaps not. But like me, he'll make the best of whatever choice he makes.