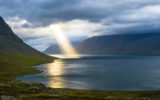 Today was my co-worker's funeral. It was under Christian rites.
I've been through many different religious funerals. Christian ones are the best because they're short.
One that I've never been to was an atheist funeral. And I kinda want to know how that one is for my funeral.
As an atheist, there are not many options for us out there. It still feels awkward answering that question because of the looks you get.
Somehow people believe that you do many bad things because you don't believe in God. I have to explain that just because I don't believe in a god does make me amoral.
What makes me do good have nothing to do with religion. It has to do with empathy.
But I do envy religious people in some ways though.
For one, they are very much accepting of fates as the "will of God" or whatever. That, if their relationship didn't work out it's because it wasn't meant to be. I, on the other hand, would think that perhaps you were an asshole and you could have done better.
They also find solace in the fact that some higher being is in charge of their lives and destiny. So if God decides it. They take failures much easier. I would examine the shit out of the failure to determine what I could do better.
I sometimes think that theistic people are also confident if they believe that God is with them. For me, well I have to deal with the knowledge that it's going to be up to me with all my limitations and weaknesses as such.
Sometimes I think it's best to believe, but then I realise that there is no rational reason to. These people have continued to live with superstition and calling it "faith" while ceding control of their lives.
I choose to live my life being in control. Accepting responsibility for my actions. And making all decisions that impact me and others.
No god is in charge of me. Only I am.